---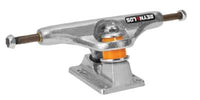 Sale
Classic polished hanger and base plate with silver hardware, orange cushions, and Reynolds bar logo pad print on the inside hanger. STAGE XI HOLLOW STANDARD. Lightweight version of Stage XI with hollow axle and kingpin. 7% lighter than Stage XI. 55 mm tall.
GUARANTEED FOR LIFE!
Independent Trucks are guaranteed for life against manufacturer defect in materials or workmanship. If you think you have a defective product contact warranty@nhs-inc.com or call 800-543-7979.